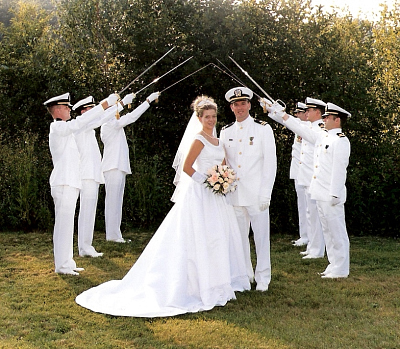 Swords are cool. What better way is there to liven up a wedding by introducing swords into the mix? Swords can be used as decorations, accessories, or for practical reasons. If you feel that your wedding is lacking medieval weaponry, then check out these great ways of incorporating swords.
For centuries, swords have stood as symbols of power, grace, and awesome-ness. This is why they have the potential of adding so much to a wedding. For instance, when was the last time you attended a wedding and thought to yourself, "This place could really use some sharp objects"? Swords can serve as decoration on a plaque or coat of arms, and show guests that you may be here to party, but you don't mess around.
Military uniforms are often decorated with swords, like the one that Prince William wore to his wedding. If a groom, or male member of the wedding party, chooses to wear a military uniform to a church wedding, then he should check with the church beforehand since swords may not be allowed in certain religious settings. Even if weapons are allowed, ceremonial military swords should never be drawn in a place of worship

[1]

.
As a sign of respect for the newly married couple, military men can create an arch with their swords for the newlyweds to walk under. Of course, based on the regulations about swords being drawn, the arch is usually placed outside. An arch of rifles can also replace the arch of sabers, if you're looking for a little more firepower

[2]

.
At the reception, swords can be used for food and beverage service. For my parents' 25th anniversary, my dad used a saber to open bottles of champagne (which is just about the coolest thing I've ever seen). Not only is this an amazing piece of entertainment that guests really enjoy (I know I did!), but it is also a great way to keep the festivities going without the bride and groom needing to be present. An example: if you decide to have your wedding photos taken after the ceremony, then the father-of-the-bride or another member of the wedding party can do this trick during the cocktail hour to keep guests interested while they wait.
Image courtesy of David and Anina Nolen
.
One of my favorite ways that I've seen couples incorporate swords into a wedding is by using a saber to cut the wedding cake. The act of cutting the cake with one's new spouse is already momentous enough, but adding a sword? Absolutely unforgettable! This is a great photo op, and most importantly, a fantastic way to incorporate swords into a wedding.
Bottom Line: Although previously used to conquer armies and merge nations, swords can be used as cool decorations, military traditions, or for entertaining guests. It's not surprising how easily swords can be incorporated in to a wedding since, as we all know, love is a battlefield. Iconic lyrics courtesy of Pat Benatar.