NBC's late comedy sitcom "Friends" was one of the most popular and highest rated television shows of all time, and a frequent source of wedding-related jokes and conversation. Although "Friends" fans will remember that the most common source of the material was serial groom Ross, who was married a total of three times over the course of the 10-year series, the program featured five weddings (including Ross and Rachel's drunken Vegas wedding). In real life, five of the six primary cast members have been married. This blog is for the "Friends" fans that want to know every detail about their weddings, on and off the air.
Although the first wedding featured in "Friends" was the civil union of Susan and Carol, Ross's first wife (televised a full fifteen years before gay marriage was legal in New York), the first wedding involving one of the primary cast members was that of Ross and Emily. Although the marriage of Ross and Rachel (whoops, I mean Emily) did not last long, their London wedding was gorgeous.
Ross and Emily had a church wedding, lit by candles and white Christmas lights. The bride wore a white empire waist gown with a cover-up (lace and sequined sleeves), a tiara in lieu of a veil, and carried a bouquet of white and dark red roses, baby's breath, and fern leaves. The groom and groomsmen wore black tuxes with grey vests and ascots and white rose boutonnieres. The bridesmaids wore red spaghetti-strap column dresses and carried bouquets of white roses, brown berries, and camellia foliage. The wedding party walked down the aisle to the song "Tired Old Souls" performed by real-life band The Hormones. The bride was escorted by her father to the traditional "Here Comes the Bride".
That marriage came and went, and next up was Ross and Rachel (really Rachel this time) in Vegas. The on-again-off-again couple was married at The Little White Chapel in Las Vegas, Nevada, which is home to a slew of celebrity weddings over the past 60 years and has been featured in many television programs. The wedding of Ross and Rachel interrupted the impromptu nuptials of Monica and Chandler, who after seeing their friends emerge from the chapel decided to wait to get married so they can have the wedding of Monica's dreams.
The wedding of Monica and Chandler took place on May 15 inside of a New York City museum in front of approximately 56 wedding guests. The groom wore a black tuxedo with a black tie, gold vest, gold pocket square, and a red rose boutonniere. Ross, his best man, wore a black tux with black tie and a white rose boutonniere while escorting Rachel and Phoebe down the aisle. The two bridesmaids wore silk chiffon column dresses with olive and pale yellow design beading made by NY designer company Victoria Royal for a cost of $795

[1]

. They carried orange-pink calla lilies and wore flowers in their hair. Monica wore a strapless v-neck white wedding dress, with a floor-length veil covering her long hair. The dress was made by House of Bianci

[2]

, which has been out of business since 2001. However, a similar dress can be purchased from Marisa Bridals for a mere $149.99 (much lower than the original, I presume). The wedding party walked down the aisle to the tune of "Groovy Kind of Love" on violin, and Monica makes her entrance with her mom and dad to a cover of "My Love" by Paul McCartney and Wings

[3]

.
The last "Friend" to get married during the show's run was Phoebe, who wed Mike in season 10. The pair got married in an outdoor winter wedding, and all guests were fitted with large coats except for the bride (as she said, she would be her 'something blue'). The bridesmaids wore dresses with a square neckline, gold and silver beading on top, and blue/grey A-line skirts (in addition to their large winter coats). The groomsmen wore black tuxes with grey ties, and Mike's best man wore an orange rose boutonniere. The groom wore a black tux with a white bowtie, and the bride wore a light lavender gown with cap sleeves, a fitted bodice, and an A-line skirt. Phoebe's dress was a St. Pucchi wedding gown, designed by Rani Totman for a whopping £8,500 (that's $13,430)

[4]

! She carried a larger version of the bridesmaid's wildflower bouquets, filled with flowers such as pink roses, orange roses, lavender, and many other ones unable to be identified by watching YouTubes clips repeatedly (and knowing very little about flowers). The wedding party walked down the aisle to "Fools Rush In" by Elvis played on the steel drums, and Chandler escorted Phoebe to "Hey, There and Everywhere" by the Beatles

[5]

.
Ironically, Lisa Kudrow was actually the first "Friend" to get married in real life. Kudrow married husband Michel Stern on May 27, 1995 in a white off-the-shoulder column dress by designer Amsale Aberra

. The groom wore a black tux, gold vest, and a white rose boutonniere matching the bride's corsage.
In the season six premiere of "Friends", the cast and crew members added last name "Arquette" during the opening credits as a tribute to the recent nuptials of Courteney Cox and David Arquette, who were married June 12, 1999
[6]
. The bride wore a long-sleeved silk column dress by Valentino, a tulle veil, and carried a bouquet of red roses (similar to her character's wedding ensemble in "Friends"). The groom wore a long black tux jacket with a silver tie and a red rose boutonniere. Courteney was escorted down the aisle by her father to the song "Maybe I'm Amazed" by Paul McCartney (again, similar to the show). In attendance were Jennifer Aniston, Matthew Perry, Lisa Kudrow, and over 200 other wedding guests.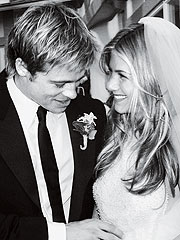 On July 29, 2000 Jennifer Aniston married Brad Pitt in an evening ceremony in Malibu, California
. The ceremony took place at a friend's house that overlooked the ocean in front of 200 wedding guests, including Jen's BFF on and off the show, Courteney Cox
[7]
. The bride wore a glass-beaded silk and satin Lawrence Steele wedding dress, ivory suede Manolo Blahnik shoes, and a Swarovski crystal tiara with a draped veil. She carried a bouquet of Dutch Vendela roses and walked down the aisle to a gospel choir singing, "Love is the Greatest Thing" by Al Bowley. The groom and best man wore black tuxedos, white shirts, and black ties. The bridesmaids wore pale green Lawrence Steele slip dresses. The wedding reception was decorated to look like a zen garden, with lanterns, candles, and floating lotus flowers. Table centerpieces included roses, wisteria, and tulips. Guests feasted on lobster, beef, and Italian fare for dinner, a white wedding cake for dessert, and then enjoyed a fireworks display at the end of the evening.
Next up was Matt Le Blanc, whose bachelor character Joey was the only "Friend" to never marry in the show's run. Matt married his fiancée of five years, Melissa McKnight, in a Hawaiian wedding on May 3, 2003
. The groom wore a black suit, a lilac shirt, and a ginger lea. The bride wore a slip dress with chiffon overlay and a tulle veil and carried a red bouquet

[8]

. As guests arrived at the wedding that took place on a Kauai cliff, they were greeted with purple and white orchid leis. The reception had traditional Hawaiian food including jumbo shrimp, spring rolls, and Mahi Mahi

[9]

. In addition to the 75 wedding guests were "Friends" stars Jennifer Aniston, Courteney Cox Arquette, and Lisa Kudrow.
The last "Friend" to marry was David Schwimmer, who, unlike his character, had his first marriage in a secret June 2010 wedding to Zoe Buckman. Unfortunately for us, no wedding details or pictures were released following their nuptials

[10]

.
Bottom Line
: Due to the show's overwhelming success, "Friends" has shown to have a major cultural impact on the United States. Since weddings were a primary topic on the show, the individual details of the televised ceremonies could spark a trend in western culture. And with the fame that these six actors earned, and the eight-figure salaries, their weddings were put on with the anticipation that millions of future brides would be reviewing every detail – therefore, the utmost amount of effort, beauty, and class was included in each of the "Friends" weddings, on and off-air. After all, when considering what elements to incorporate in to your own event, who better to lend you some useful wedding ideas than your "Friends"?
---