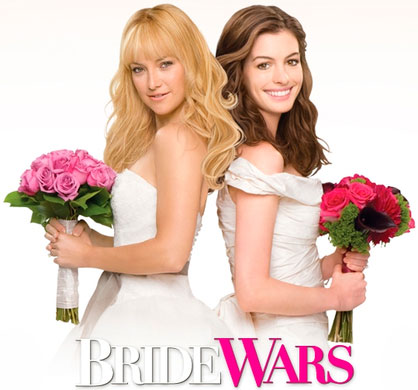 "Bride Wars" is the tale of two best friends, Liv (Kate Hudson) and Emma (Anne Hathaway), who become enemies when they accidentally schedule their dream weddings for the same day. The film is a back-and-forth battle of the brides, attempting to ruin the other's big day.
This film is definitely a chick flick, and so I did not subject Brandon to watching the movie with me. I felt that the characters were unlikable and insincere, with very shallow personalities. I had a hard time sitting through this movie, especially the second time I watched it (don't judge me). The ratings are:
Bridesmaid – 7/10 (Venus, I love you, but … really?)
As a bride, I can understand the incomprehensible desire to have a unique wedding that is all one's own. However, this blog serves as evidence to the fact that although I wanted a wedding that fit our individual style, I still share my experience with other brides. This is because I appreciated others' desire for me to have the perfect day, and I want other brides to have their dream wedding.
Is it okay to be a little selfish on your wedding day? Yes, yes, a thousand times yes. There are those that will want the weeks/months leading up to the wedding to be all about them. However, laid-back brides should not feel surprised if they develop a selfish instinct at some point. For me, it was the dress. In planning my wedding, I wanted to share the day with my then-fiancé, my wedding party, and my family – in other words, I never wanted the day to be all about me. However, when I bought my wedding dress (a full eight months before the day), I became so possessive of the gown. I was so paranoid that another bride in my life would wear the same dress for her wedding, but fortunately for me, my unique style came through for me!
Bottom Line: It is expected for a bride to be a little selfish on her big day. But as everyone else puts her fulfillment of her wedding dreams as a priority, the bride should do the same for others. There's no harm in keeping your details a secret just in case, but the characters in "Bride Wars" are downright malicious and petty. Watch it with your bridesmaids - not safe for grooms.